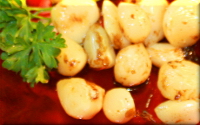 The Collette family has served Pueblo and the southern Colorado region since 1973. A favorite of individuals, families and busineses, Collette's can cater for every occassion or provide that next quick bite for lunch or take home family meal. Let JoAnna, Pat and their staff take care of you. You'll wonder why you didn't choose Collette's sooner.
Sandwiches
Think of any kind of Sub Sandwich: and we have them all!
Italian Sausage, Steak, Chicken, Meatball & Kolbassi. Drop in and pick one up for lunch or cover everyone for your next event. They'll love you for it!
Specialties
Every classic Italian dish made to perfection. Manicotti, Ravioli or Lasagna? We do the best. Veal or Chicken Parmesan or Gnocchi? No one does it better! Spaghetti or Mostaccioli from anyone else? Feggetaboutit!
Events
Weddings, reunions, luncheons, birthdays, game days or any get-together or celebration you can imagine. You don't have to stress out. Feed everyone the best. We make it easy. Catering arranged to your needs and convenience.